De kant-en-klare oplossing voor verpakkingsvrije verkoop
Heb je altijd al verpakkingsvrij willen verkopen? Zag je op tegen de investering in een zelftapsysteem of het onderhoud en hervullen van tapsilo's of schepbakken? Dan is TAP de oplossing voor jou.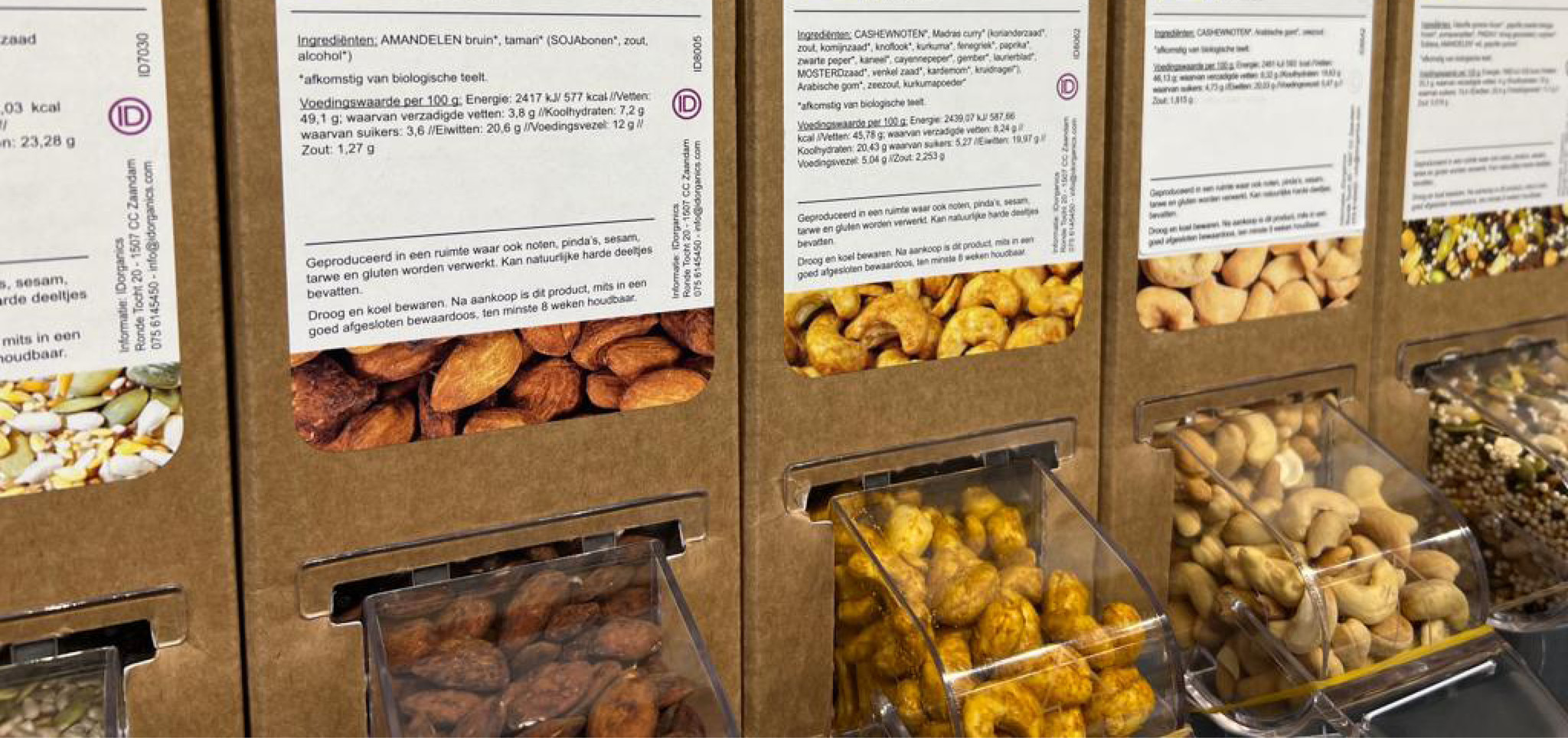 Het concept
IDorganics biedt twee innovaties: een tapsilo en schepbak van karton.
Tapsilo van karton

 

Schepbak van karton

 

De tapsilo en schepbak zijn gemaakt van recycled karton. Wij vullen deze in ons bedrijf in Zaandam met onze biologische producten. De tapsilo's en schepbakken worden rechtstreeks aan je geleverd. In combinatie met de accessoires van BPA-vrije kunststof zoals een doseerklep voor de tapsilo's of van rvs zoals het deksel en de schep of tang voor de schepbakken, ontstaat een aantrekkelijke presentatie voor verpakkingsvrije verkoop.

De kartonnen tapsilo's en schepbakken zijn recyclebaar, de accessoires zijn herbruikbaar.
De verpakking
De voordelen van de tapsilo en schepbak van karton
Volledige traceerbaarheid - batchcode en tht van het product staan vermeld op het productlabel op de zijkant van de tapsilo of schepbak
Milieuvriendelijk - we gebruiken geen plastic zakken om de producten in te verpakken, alleen de kartonnen tapsilo of schepbak
Kant-en-klaar voor gebruik - het is niet meer nodig om een apart zelftapsysteem te vullen met onze producten
Gemakkelijk schoon te maken - alleen de accessoires (doseerklep, schep of tang) moeten regelmatig worden gereinigd.
Eenvoudige installatie
| | |
| --- | --- |
| De kant-en-klare tapsilo | De kant-en-klare schepbak |
| | |
Eenvoudige Installatie in 4 stappen
Heb je interesse in ons zelftapsysteem van karton? Bekijk dan de brochure of bezoek de productpagina's van TAP in de webshop.
Je kunt ook contact opnemen met onze verkoopafdeling: +31 (0)75 6145450 of rechtstreeks met:
Herco Schoemaker: [email protected] of David Plukaard: [email protected]