Na weken van regen en soms herfstachtige stormen is de lente eindelijk gearriveerd. Je kunt aan de bomen zien dat ze wachten op de eerste warme, zonnige dagen. Een licht waas van groen is al aan de takken te zien. Tijd dus om de winter achter je te laten en je te richten op de lente.
Als je een zelftapsysteem in je winkel hebt is het nu de tijd om je assortiment goed na te lopen. Vervang typisch winterse producten zoals bonen en peulvruchten door een meer lenteachtig assortiment met zaden, noten en onze speciale pastasoorten.
Check ook of je tapsilo's en/of schepbakken compleet zijn. Vraag eventueel nieuwe onderdelen zoals schepjes, tangetjes of labelhouders aan via [email protected]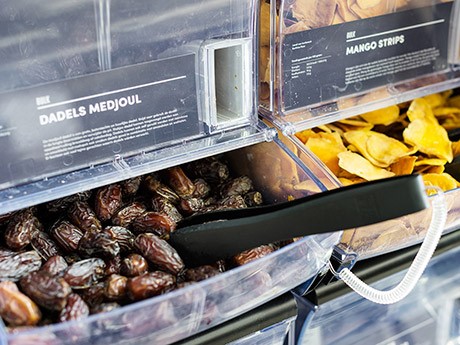 Wij proberen met onze aanbiedingen ook in te spelen op de seizoenen. Zo hebben we de komende weken een aantal van onze zaden en zadenmixen in de actie. Maak gebruik van deze actie en speel de korting door naar je klanten. Veel van onze klanten nemen gedurende een actieperiode ook zelf wat minder marge, zodat de klant een superscherpe prijs kan worden geboden. Als wij je bijvoorbeeld 15% actiekorting geven en je geeft daar zelf nog 5% bij, kun je je klanten 20% korting bieden.
Een actielabel voor je zelftapsysteem vraag je aan via [email protected]. Graag bij je verzoek aangeven hoeveel korting je je klanten gaat geven zodat we dit juist op de labels kunnen vermelden.
We wensen al onze klanten een sprankelende lente met goede Paasverkopen.